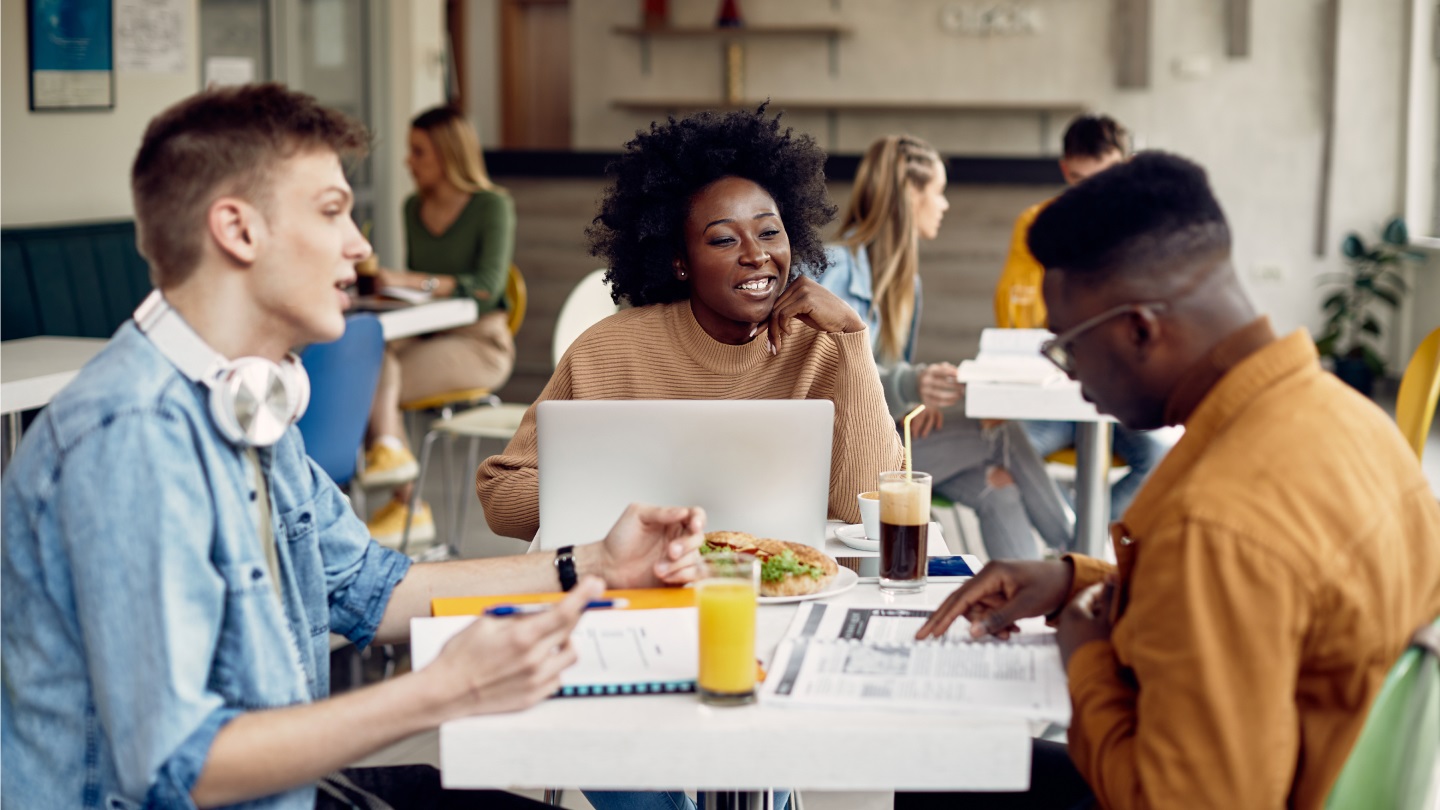 20 Tips For Eating Healthy-ish On A College Budget
One of the most difficult things to budget for during college is food. An extra challenge on top of that? Eating healthy while on a budget. Between college meal plans and picking up a quick bite at a fast food joint and eating out with friends on the weekends, it can take time to figure out how to stay healthy when you don't have a lot of cash to burn.
If you're willing to get strategic and put a little effort into your food-buying habits, eating healthy at college without spending a lot is entirely possible, though.
Here is a list of 20 tips. While this is by no means a comprehensive list, pick a few of these that work for your lifestyle, and you'll be eating healthy on a budget in no time.
1. Make a food budget — and try to stick to it
The first step when it comes to eating healthy on a budget is to know what you can afford to spend. Creating a food budget based on your monthly finances will help you get started. Once you know what you can afford to spend each month, you can start making choices that work within your budget.
A budget puts everything in perspective so you can keep track of your spending. Consider making the budget your first step; you also need to stick to the budget. Keep track of your food spending as you go, and do a review of your food spending at the end of the month to see where you might need to make adjustments.
2. Stop buying junk food
Junk food might seem like a cheap and easy option while you are in college, but it will throw you off the healthy eating train quickly. Instead, make a conscious effort to replace junk food with healthy snack options that are also inexpensive, like vegetables that are easy to snack on, popcorn without butter, and mixed nuts. There are plenty of snacks out there that are both healthy and inexpensive, so there are no excuses.
3. Cook healthy food at home
Eating out at restaurants or fast food joints will likely eat into your budget, not to mention hurt your ability to eat healthily. You can cook at home and save a bit of money even in a dorm room. Invest in a toaster oven or an air fryer, stock your fridge with greens and fruits, and commit to eating at home at least some nights of the week. You'll be shocked by how much money you save by making a point to do this.
4. Cook in large batches so you have leftovers
If you're lucky enough to have access to a big fridge and a larger kitchen while in college, meal-prepping is an excellent way to stay healthy on the go. By cooking everything for the week in advance, you can stock the fridge and grab your meals before you head out for the day or have things ready for when you come home from classes and are inevitably exhausted. A little meal prep on a Sunday night will save you time and money throughout the week, and it will also give you the ability to make sure you are eating healthy even when you are short on time.
5. Do the math on the meal plan options
A lot of college students are on some kind of meal plan. Remember, meal plans are not one size fits all. Spend some time doing research on the meal plan options and the one that is going to work best for your budget. One of the worst things you can do is to sign up for a meal plan that you aren't going to utilize fully. If you have questions about the meal plans at your school, don't hesitate to reach out to your college to fully understand how they work and what options come with each.
6. If you have a meal plan, take advantage of it
If you have a meal plan, take advantage of it in every way that you can. If you have access to a buffet, take apples back to your dorm room to snack on later. If you only have access via your meal plan to one cafeteria meal a day, consider making a salad to take with you to cover another meal. There's nothing wrong with using the cafeteria as your own personal grocery store when you can.
7. Choose the right grocery store for you
To put it simply, some grocery stores are more expensive than others. Choosing where to shop impacts what you spend each week. If you're unsure of where to start, ask your classmates or locals to see where they pick up food. Usually, bigger grocery stores will have discounts and sales more often than smaller specialty stores, although that is really going to depend on the stores in your area.
8. Make a list when grocery shopping
Making a shopping list is the first step to keeping yourself on budget. Once you go shopping a few times, you'll learn how to stick to your budget and build a list that makes sense. The other benefit of a shopping list is that it keeps you from making random, unhealthy purchases that might throw off your healthy eating habits. Before heading out to food shop, plan your meals for the week, then build your shopping list.
9. Eat before going grocery shopping
A surefire recipe for filling your cart with unhealthy options is to shop on an empty stomach. Before heading to the grocery store, eat a snack or have a bite to eat. You're less likely to buy random items if you aren't starving when you walk in.
10. Use coupons and store membership cards to cut your costs
Many grocery stores offer weekly coupons and membership discounts if you sign-up for their membership cards. Often, these memberships are free and allow you to opt-in to receive promotions and other discounts. Get signed up at the stores you shop at most frequently and use your membership card every time.
You'll also want to pay attention to weekly coupons and sales made available through grocery store apps and coupons in the local papers.
11. Shop what is on sale
Checking to see what's on sale each week is a great way to stay on budget. Before writing your grocery list, take a look at the weekly deals and add some of those options to your list. If you have coupons, take a look through them to see what you can use.
It might seem time-consuming to go through deals and coupons each week, but it can save you money over time.
12. Buy the store brand
Often grocery stores offer their own store-brand food options. These are usually less expensive than name-brand products while often being largely the same product. Buying the store brand product will often help you get more bang for your buck in a lot of cases.
13. Buy in bulk
If you have the space to buy groceries in bulk or even split large-format groceries with your roommates, it can help you stay on budget. Warehouse stores offer bulk food and home supplies, so you don't have to make as many trips to the store. Plus, buying in larger quantities at these stores often will save you money compared to buying smaller-sized products.
Buying in bulk does take up a lot of space in the pantry or fridge, though. So, this usually only works for students with a full kitchen or storage room.
14. Fill your freezer
Frozen products last a lot longer than fresh products. By filling your freezer with frozen fruits, vegetables, and even meat options, you can keep food better for longer and also ensure that you always have something at home to eat so you can avoid spending money on takeout.
Additionally, many frozen options are cheaper than fresh options. While we'd never suggest completely avoiding fresh fruits and veggies, frozen options can be helpful when it comes to making smoothies, stews, or other cooking options that don't need fresh ingredients.
15. Choose your meats and fish wisely
Some meats and fish are more expensive than others — that's why it's important to choose carefully. For example, red meat is typically more expensive than chicken or turkey. Swordfish is usually more expensive than white fish. Make substitutes where you can, and you can potentially save a lot. Another tip for saving on meat and fish is to buy it uncooked and to prepare it yourself.
16. Find other sources of protein
If you find that meat and fish are still breaking your budget, opt for other protein sources like tofu, beans, and nuts. There are many options for people who either don't eat or can't afford to eat fish or meat. Many of these sources of protein are a lot less expensive and just as filling as meat or fish.
17. Grow your own vegetables
One of the most rewarding ways to fill your plate is by growing your own vegetables. Whether you have room for a garden at home or access to a community garden, getting your hands dirty is healthy and fulfilling and often a great way to save money.
18. Eat seasonal foods
It's usually cheaper to eat healthy foods that are also in season. How do you know what's in season? A quick online search will help you determine the fruits and vegetables that are in season in your area.
Another way to ensure that you are eating food that is in season is to head to a farmer's market. Many sellers at these markets only bring seasonal produce from their farms.
Not only will you get super fresh, seasonal ingredients, but they can be cheaper options than what is available in the grocery store.
19. Buy canned or frozen food
Another option to keep things on the cheaper side is to opt for canned food. Items like beans, soups, and even some canned veggies are tasty, healthy, will keep your shelves stocked, and are usually the cheaper options.
20. Plan how and when you eat out to help save money
Everyone eats out at some point — whether for a birthday party or other special occasions. Even though it's usually much more expensive to eat out at a restaurant than at home, there are still ways you can eat out, stay healthy, and keep on budget.
Look at restaurant menus online before you go out and decide what you're going to order to stay on budget. Give yourself an eating-out budget for the month and stick to it (this tends to be the Achilles heel of a food budget). And if you have questions about how something is cooked or what's in a dish, go ahead and ask when you eat out. After all, you don't have to eat unhealthy just because you're at a restaurant. Do your best to stay on track, and you'll feel proud of yourself when it comes to eating healthy and staying on budget.
Final thoughts
Learning to stay healthy and on budget as a college student isn't easy. Find a balance of strategies that work for you and then stick with them for the long haul.